If you need Championship Soccer Speed
you've come to the right place
Hosted by Dr. Darin White,
National Championship Winning College Coach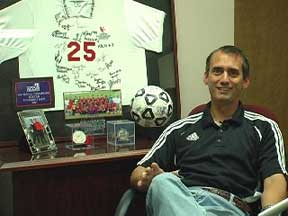 Dr. Darin White
University Coach of the Year, 2005 NSCAA/Adidas South Region
Coaches a Top 20 Nationally Ranked U13 Boys and won four consecutive Division 1 State Championships
Rush Soccer Technical Director for the TN Rush Soccer Club
NSCAA Advanced National Diploma
Ph.D. in Strategy

Scenes from the Championship Soccer Speed video
Two DVD set -- 40 minutes per DVD packed with speed techniques and tips showing you how to develop championship soccer speed


Speed is a skill, and can be improved!
IMPORTANT NOTE: Speed is not just genetics, as once thought.
It has been scientifically proven numerous times that everyone can learn how to
increase their speed, quickness and agility. Many superstar athletes use speed coaches.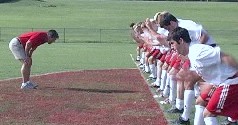 .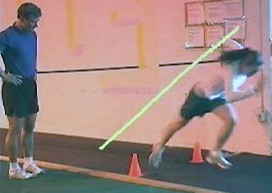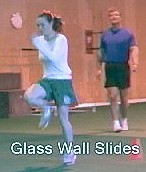 .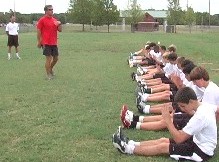 .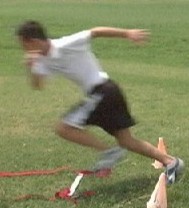 Coach White's U-13 team won three straight state championships, and his college team won their nationals with improvement in team speed


How Important is speed in soccer?

Strength and speed characteristics of elite, subelite,
and recreational young soccer player
Sports Med. 2006 Jul-Sep;14 (3):205-14. Gissis I, Papadopoulos C, Kalapotharakos VI,
Sotiropoulos A, Komsis G, Manolopoulos E.
The purpose of the present study was to compare maximal isometric force, force-time curve characteristics, pedaling rate, vertical jump, and sprint performance among young soccer players from different competition levels. All groups were evaluated for maximal isometric force, explosive force at 100 msec, peak force relative to body mass, rate of force development, squat and drop jump heights, 10 m sprint time, and pedaling rate. The elite group presented significantly (p < 0.05) higher maximal isometric force, vertical jump height, and pedaling rate, and lower 10 meter sprint time in comparison with the subelite and recreational groups. No significant differences were observed in strength and speed characteristics between the subelite and recreational young soccer players.
The findings of the present study suggest that the elite young soccer players can be distinguished from subelite and recreational young soccer players in strength and speed characteristics. These strength and speed measures can be used for strength and speed diagnosis, and for designing and evaluating training programs. PMID: 16967772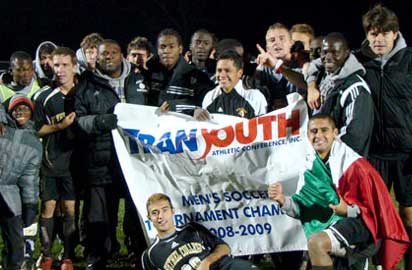 photo by Matt Swinea
Bethel University wins NAIA National Championship
Coach Melvin Belong, a former Bethel University soccer athlete now head coach, and Asst Coach Malang Jarju knew the Bethel University Men's Soccer team needed speed.
Coach Belong implemented speed training with Speed Coach Phil Campbell before the 08 season, and he lead his team to the national tournament. While going unranked and unseeded, the team that wasn't suppose to win even one game in the national tournament used speed technique and won four straight games including the final game that gave the coaches and every athlete on the team a title to wear the rest of their lives, "National Champions."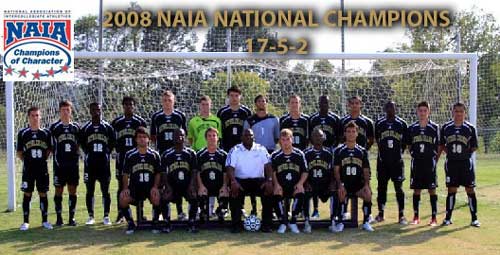 See Phil Campbell's article on speed training drills here
---
Soccer Coach Kent Carter and the JCS Girls Soccer Team performing a drive phase technique
drill designed to teach athletes how to position the body for explosive bursts of speed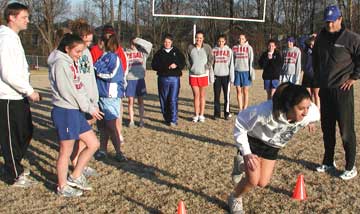 Championship Soccer Speed
speed training film with our Best Guarantee
Order your copy of this two-DVD set, 40 minutes on each DVD for
$29.95
If you don't run faster after following our speed development program for 30 days,
we'll give you a full refund. It's that simple!
Offer applies to orders placed on this SSL Secured Website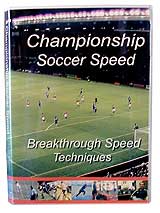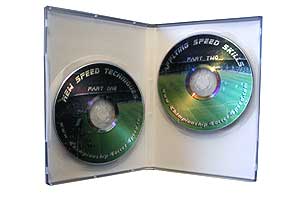 Click here for ordering information
See Phil Campbell's article on the timing of stretching here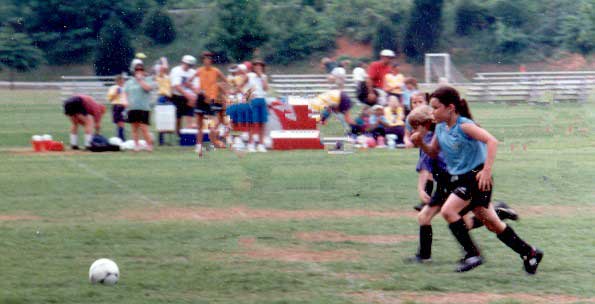 Girls Soccer teams get Results!
During a recent on-location Championship Soccer Speed Camp, teenage girls experienced significant improvement in only two training sessions.
20 yard sprint: avg. improvement ".3 seconds"
40 yd sprint: avg. improvement ".5 seconds"
Flexibility: straight leg, sit-and-reach measurement:
avg. improvement "4 inches"
Athletes using our training techniques improve their 20-40 yd sprint time by learning
perfect speed technique by .2 to .5 seconds.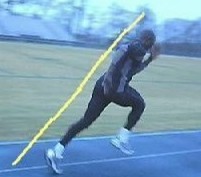 .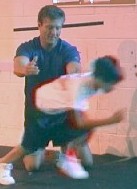 .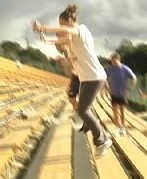 Money back guarantee! It's simple, if you don't improve speed for your sport & you aren't 100% satisfied, payment will be refunded."Gift certificates available & credit cards accepted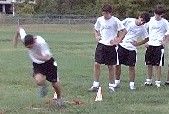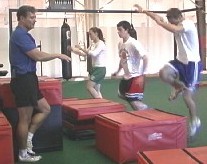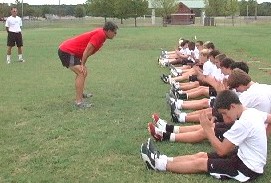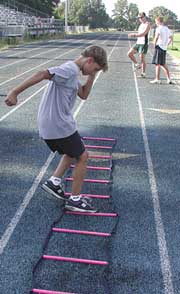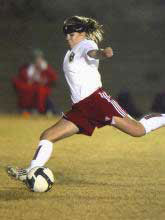 Katie Hoover
Signed with large D-1 University in MS

Andy Metcalf


Selected 2nd round, 19th
overall pick in the 2006
MLS Draft, Andy Metcalf.
All-American from the University of Memphis, Andy was signed with the Atlanta Silverbacks for the 2007. Head Coach Jason Smith explains why, "Metcalf is equally versatile on the right side of the field; he'll add speed..."



Why does sprint training improve the endurance?
See details here

See our Secure
Shopping Policy
here
Website owners
affiliate info here